Last updated 01/07/13

"
Bottom line: Out of all family locator services I've tried, this is one of my least favorite in terms of cost. I prefer a plan with an unlimited ability to find phones without an additional cost.  I liked that it was easy to begin using MobileLocate but I don't feel it's worth the cost, especially when there are other comparable locator services out there.
Pros and Cons: The  biggest pro with MobileLocate is simplicity.  It is very easy to get started with the service and begin tracking phones.  The drawback is the cost.  
It does not provide a plan that lets you locate a phone as many times as you wanted for a predetermined cost.  MobileLocate is also available on a limited number of carriers for now.  It is set to expand its available carriers in the future but, at this time, it can only be used to find phones on the major carriers such as Verizon, Sprint, ATT, T-mobile, Rogers and Telus.
Introduction
Having the ability to check where your kids are at any time, day or night, via a mobile device or computer is an invaluable tool for parents.  Years ago, you had to trust your teens were telling you the truth when you called them and asked where they were or when they left the house and said they were heading to a friend's house. Today, parents can use one of many  family locator services to know precisely where their kids at any given are without having to ask them.   MobileLocate is one of many services that provides parents this ability.  It is not affiliated with any cell phone carrier so it can be used whether you have Verizon, Sprint, T-Mobile, ATT, Rogers and Telus.  Other carriers will be added in the future but, in the meantime, only phones with the previously stated carriers can be located.  
MobileLocate uses GPS and cell network data to digitally track the location of any cell phone you want to find. There is no need to install an app and phones do not have to be on your family plan or your account to be tracked.  A text message will be sent to the phone once you have requested to track it and the user simply has to reply "YES" in order to be tracked.
User Interface and Accuracy
The user interface on MobileLocate is fairly simple.  It provides a Google map in a satellite or standard version.  The location comes up on the map with the name you chose for the phone, a location, an approximate radius of up to a half mile and a time stamp.  The accuracy varied when I used it.  The users I added with iPhones had more accurate locations than those with other phones, such as standard phones or Droid smart phones. Most were fairly close, within a half mile of their actual location, but the iPhone was usually only a block or two away from where it was really at.  In addition to the satellite and standard view, you can also pull up a street view of the location.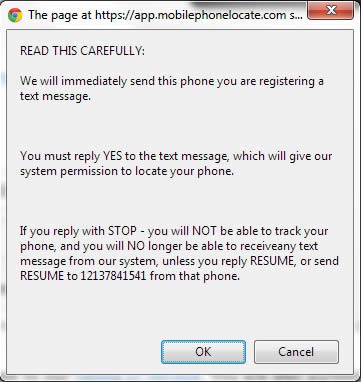 Plan Set Up
MobileLocate is fairly easy to set up.  You'll need to go to the MobileLocate website.  There you'll be prompted to enter  your first and last name and your email address to create an account.  Once you've done that, you can begin adding phones you want to track.  After the text message is received and the user replies with a "Yes", you'll be able to track phones.  You have have two free locates before you will be prompted to sign up for a subscription.   There is no app to install on any phone and you can access MobileLocate from any laptop, desktop, tablet or mobile phone.  
Features
MobileLocate is a very basic service and really does not have many features to rave about.  It provides a basic map view comparable to all other services available.  It does not offer any extras, such as sex offender tracking, emergency alerts or check in options, as other services do.  If you're a user that prefers a basic service, this is a service that may appeal to you.  What you may not be a fan of is the price. 
Pricing: Pricey
MobileLocate does not offer an unlimited locate plan such as those offered by LociLoci and Life360.  MobileLocate has two options for plans that include a limited number of locates.  The first plan is $19.95 and gives you 30 locates.  It's valid for up to 90 days and any additional locates are $.69 each.  The second option is a monthly prepaid subscription that includes 50 locates per month for $7.95 a month.  Extra locates are $.50 each and each additional phone added to the plan is $5.95.  Each phone you want to track will also be charged a phone provisioning fee of $4.95 per phone.  In the end, this plan can easily cost up upwards of $10-20 a month minimum.  With other more reliable and inexpensive options available out there, MobileLocate seems excessive.
Free Trial